Bear Valley Mountain
Bear Valley Mountain is known as a family-friendly resort with lifts and runs for everyone from beginners to advanced skiers. The ski area is 48 miles east of Angels Camp, with lifts covering elevations from 6,600 feet to 8,500 feet.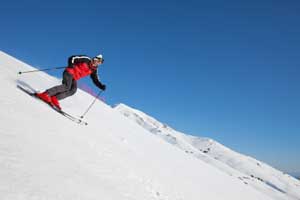 The day lodge is at an elevation of 7,750 feet. Being in one of the heaviest snowfall areas in California, the resort usually has plenty of snow.
Lift Operation Hours:
9:00 AM - 4:00 PM Weekends and Holidays

9:30 AM - 3:30 PM Midweek

Lifts: 1 high-speed quad, 2 triple chairs, 5 double chairs, and 1 carpet lift.
Terrain: 1,280 acres of skiable mountain with 1,900-feet of vertical drop. 67 trails (25% beginner, 40% intermediate, and 35% advanced). Two Terrain Parks.
Map of Bear Valley Ski Runs
Bear Valley Mountain Ski and Snowboard Rentals
2016-2017
Hours: 8:30 AM- 4:30 PM
Rental Package
Audlt (13+)
Child (12 & Under)
1 Skis, boots and poles, or board and boots
2Helmets free with lessons for ages 4-12
Drivers license and deposit required for all rentals. Prices subject to change.
Full Package1
$46 ($49 peak)
$35 ($39 peak)
Skis or Board Only
$36 ($39 peak)
$30 ($32 peak)
Boots Only
$22 ($25 peak)
$17 ($19 peak)
Poles Only
$10 ($12 peak)
$10 ($12 peak)
Helmets2
$15
$15
Powder Pants Bib
$22
$22
Bear Valley Mountain Ski and Snowboard Lessons
2016-17 Seasons
Children's Lessons - Ages 4 - 12
Children will be placed in groups with others with similar abilities and ages. Packages include lift ticket and rental equipment.
Full Day Sessions: Two 1-hour 45 minute instructional sessions (one AM and one PM) with a one hour lunch break. A healthy lunch is included in the full day program. Check-in between 9:00 - 9:30 AM. Pick-up at 3:00 PM
Reservations: (209) 753-2301, Ext. 777.
Lessons
Regular
Peak Days1
1 Peak Days: TBA
Late charge of $20 per half hour for late pick up of children. Any late pickup is charged a minimum of $20. Prices subject to change.
Ski or Snowboard Package, Half Day, AM or PM
$139
Ski or Snowboard Full Day
$146
$159
Ski or Snowboard, Single Lesson Only (have own lift ticket and equipment)
$68
NA
Adult Lessons - Ages 13+
Students will be placed in groups with others of similar abilities. Packages include all-day lift ticket and complete rental equipment. Group lessons are 1 hour and 45 minutes.
Lesson Times: 10:00 AM and 1:00 PM (meet on the snow 10 minutes before starting time.)
Lessons
Regular
Peak Days1
1Peak Days: TBA
Prices subject to change.
Group Lesson Only
$57
$63
Adult Packages (Ages 20+)
$129
$142
Advanced Lessons and Adaptive Lessons are available. (209) 753-2301 ext. 777
Bear Valley Mountain Facilities
Mountain Lodge, Lockers, Sundeck, Lost & Found
First Aid Station and Ski Patrol: Located on the lower level at the north end of the Mountain Lodge.
Sports Shop: Hours 8:30 AM - 4:00 PM Monday through Friday; 8:00 AM - 4:30 PM Weekends & Holidays.
Wifi: Free at hot spots at the Sun Room and Hungry Bear Food Court.
Food Services
Cub Cafe & Expresso Bar: Muffins, pastries, coffee, tea, etc.
Hungry Bear Cafe: Complete meal service, breakfast and lunch, snacks
Monte Wolf Saloon: Drinks, appetizers
JB's BBQ: Weekends and peak days on the sun deck
Free Shuttle Bus Service
Free shuttle buses connect the Mountain Lodge with more distant sections of the parking lot and with Bear Valley Village. The parking lot buses run continuously. Bear Valley Village buses are hourly on weekdays and every half hour on weekends and holidays:
Weekday Schedule: Shuttle leaves Bear Valley Village Center on the hour and from the Mountain Resort on the half hour, beginning at 8:00 AM. The last run to the village is at 4:30 PM. (There is no service between 1:00 PM and 2:00 PM)
Weekend and Holiday Schedule: Shuttle leaves Bear Valley Village Center and the Mountain Resort every half hour, beginning at 8:00 AM and making the last departure at 5:00 PM.
Times subject to change.
Ebbetts Pass Sporting Goods in Arnold
Ski and Snowboard Rentals
925 Highway 4, Arnold (209) 795-1686 Open 8:30 AM to 5:00 PM (5:30 PM on Friday and Saturday)
You may pick up ski & board equipment after 3:30 PM for next day use. 7-Day rental rates available.
209-795-1686
Ebbetts Pass Sporting Goods Snowboarding and Skiing Rental Prices - 2016-17
Rental Equipment
Full Day
Half Day*
Additional Days
*Half Day begins at 11:30 AM. Prices subject to change.
Adult Board or Skis & Boots
$36
$31
$25
Child (12 and Under) Board or Skis & Boots
$26
$22
$18
Adult Boardor Skis Only
$26
$21
$18
Child Board or Skis Only
$18
$15
$13
Boots Only
$13
$11
$10
Helmets
$7
$7
$7