Bear Valley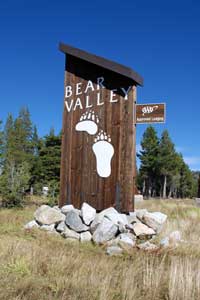 Bear Valley began its steady rise as one of the central Sierra's leading resort areas in 1967 when vacation homes, condominiums, and other facilities were constructed. Over the years Bear Valley has evolved into a vibrant, year-round community. The late television actor Lloyd Bridges and his wife were residents and supporters of the development and the popular Bear Valley Music Festival. Bridges called Bear Valley "the hidden treasure of the Sierra."
At an elevation of 7,100 feet, the community of Bear Valley sees plenty of snow in the winter, while during the summer the meadows bloom with wildflowers and the mountain breeze whispers through the trees. Summer visitors enjoy a variety of outdoor activities from hiking and cycling to fishing and rock climbing. The Music Festival is the highlight of the summer.
In the winter Nordic and alpine skiing take over. Bear Valley Mountain Ski Resort (Mt. Reba) is only 4 miles away by road, while the Nordic center is right across the highway from the village. Snowmobilers and cross country skiers take off from nearby SnoParks for adventures in the back country.
Bear Valley Village
Bear Valley Lodge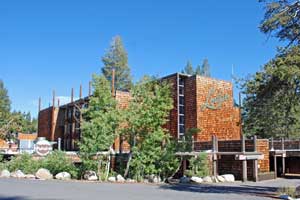 The Bear Valley Lodge is at the center of the community. The lodge has comfortable guest rooms along with three fine restaurants - Creekside Dining Room, The Grizzly Bar & Grill, and Sky High Pizza and Pub. Stays at Bear Valley Lodge include a free continental breakfast. During the warmer months guests enjoy the outdoor pool. For more information about lodging at Bear Valley, see Lodges, Inns, and Resorts.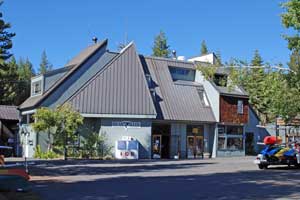 Shops and Stores
Bear Valley Adventure Company (shown left) rents and sells mountain bikes, flat water kayaks, mountain hardware, adventure gear. The Adventure Company converts to Cross Country Center in the winter.
Bear Valley Sport Shop has skis, snowboards, boots, and rental equipment.

Bear Valley Snowmobile sells snowmobiles, provides service, and rentals.
The Bear Valley General Store is open every day, selling groceries, deli, firewood, and personal items. (209)753-2842
The Ebbetts Pass Historical Association Museum is found across from the General Store in the Village Center. (209)753-2554
Community
Bear Valley Village is composed of condominiums in the vicinity of the lodge and fine mountain homes along the surrounding streets. In the winter cars are not allowed on the residential streets beyond the lodge and condominium area. Residents make do with snowmobiles or walking.
Summer Camps at Bear Valley
Day Camp
Bear Valley Summer Day Camp is offered from mid-June through early August for children ages 4 to 16. Participants can register for daily, weekly, or the full session. Activities include rock climbing, kayaking, swimming, horseback riding, disc golf, camping, crafts, and much more.
Bear Valley Summer Day Camp
Soccer Camp
Bear Valley Soccer Camp is offered for 4 days in mid-July. Besides learning soccer skills, participants have the opportunity for kayaking, swimming at Bear Valley Lake Beach and the Bear Valley Lodge Pool, rock climbing, disc golf, and movie night.
Bear Valley Soccer Camp
Archery Camp
Bear Valley Archery Camp is offered for 5 days in early July for children 10 to 16 years old. High performance archery instruction is provided each day along with other activities such as kayaking, disc golf, and evening campfires.
Bear Valley Archery Camp
Lacrosse Camp
Bear Valley Lacrosse Camp is offered for 4 days in early August for children 8 to 16 years old. Instruction focuses on offensive and defensive skills, along with teamwork, core agility, and stick handling. Other activities include hiking, mountain climbing, swimming, and kayaking.
Bear Valley Lacrosse Camp
Bear Valley Music Festival
The Bear Valley Music Festival is held every summer in a capacious tent in Bear Valley. Begun in 1968 by orchestra conductor John Gosling, the Bear Valley Music Festival has grown to be the premier music event in the central Sierra and has been featured on NBC's "Today Show". In 1984 the Sacramento Symphony's Maestro Carter Nice took over as conductor of the Music Festival and since then has conducted more than 200 performances.
Music ranges from orchestra, opera, and chamber music to Broadway show tunes. Some programs, such as the Teddy Bear Picnic or Disney Concert, are specially designed for children. Guest artists have included names such as Dave Mason, Olga Kern, Jose Feliciano, Gogi Grant, Roseanne Cash, and Glen Campbell. Every year the festival draws more than 5,000 people to their free-span tent over the course of the festival's two week duration.
Winter Sports
Skiing and Snowboarding at Bear Valley Mountain
Bear Valley Mountain has multiple lifts and runs which appeal to skiers and snowboarders of all abilities. Affordable prices, easy access, and fewer crowds make Bear Valley a favorite destination for alpine skiers who are tired of fighting traffic over Donner Summit or standing in hour-long lines at one of the mega-resorts.
In the winter a shuttle bus runs from Bear Valley Village up to the ski resort, making it convenient for anyone staying in the village to get to the slopes. A ski trail down the back side of the mountain delivers skiers to the village. Plans are underway to build a lift there so that skiers can come and go from Bear Valley Village by that route.
This map shows the back side of the ski resort and Bear Valley Village:
Map of Bear Valley Mountain from the Village Side
For more information about the ski resort, see Bear Valley Mountain.
Cross Country Skiing
Nordic skiing has a strong following at Bear Valley. With 35 groomed trails spread over 3,000 acres, cross country skiers have plenty of territory to explore. Along with the groomed trails, the cross country ski area has a Meadow Cafe, four trailside huts, children's trails, a waxing hut, and a full rental facility.
The cross country ski area is operated by Bear Valley Cross Country (known as Bear Valley Adventure Company in the summer). Trails are open from 9:00 AM to 4:30 PM every day.
For more information about cross country skiing and ski trails in the area, see
Ebbetts Pass Cross Country Skiing.
Snowplay and Sledding
The cross country area has a sledding and tubing hill. For those who want to strike out on their own, it is usually easy to find a gentle slope nearby or a short distance up the highway. When roads are well plowed, parking areas are easy to find. During heavy snow times, Sno-Parks may be the best choice. Parking at the plowed Sno-Parks cost $5 a day or $25 per year. Highway 4 Sno-Parks are located at the Spicer Meadow Reservoir turnoff and the end of the plowed highway by Lake Alpine.
For more information, see Snow Play.