Kayaking Ebbetts Pass Lakes
Flat water kayaking is popular on the lakes around Spicer Reservoir and up on Lake Alpine. Other lakes such as Highland, Kinney, and White Pines are also good destinations for kayakers. Paddleboarding has recently leaped into popularity. Paddleboarders stand on the board and paddle it slowly around a lake. Many paddlers like the freedom of standing unencumbered while they explore inlets and coves. Everyone should wear life vests (PFDs) because the lake waters are very cold and make swimming difficult.
Sierra Nevada Adventure Company in Arnold rents kayaks, canoes, and paddleboards. Bear Valley Adventure Company rents kayaks and paddleboards and offers kayaking instruction. Life jackets and paddles are included with all rentals. In places where motorized boats are allowed on area lakes, they are held to a 5 or 10 MPH speed limit.
Kayaking and Paddleboarding Destinations
Lake Alpine
At an elevation of 7,300 feet, Lake Alpine is usually open to boating mid-June through October. The 180-acre lake has a number of inlets and coves to explore along with granite islands. Wind can come up in the afternoons. Amenities at the lake include a boat launch ramp, parking, restrooms, the Lake Alpine Resort, campgrounds, and day use areas.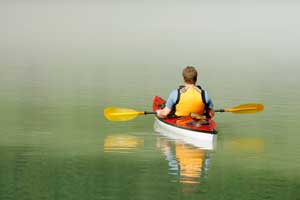 Spicer Meadow Reservoir
Located at the end of Spicer Meadow Reservoir Road, the recently expanded lake has over 2,000 acres of water to investigate with numerous little bays and inlets the 22-mile long shoreline has plenty of places to explore. At an elevation of 6,400 feet the lake is often not open for boating until mid-June. There are campgrounds, a boat launch ramp, parking lots, and restrooms. The upper 3 miles of the lake are closed to motorized boats. With a wilderness permit, you can camp on the shore in that section (part of the Carson-Iceberg Wilderness).
For more information about the Spicer, Union, and Utica reservoir area, see
Spicer Meadow Reservoir.
Union Reservoir
Nearby Union Reservoir is only a little over a mile long, but its sheltered waters make it a nice place for kayaking and paddleboarding. There are two camping area, pit toilets, and an unimproved hand-launch site.
Utica Reservoir
Utica Reservoir is immediately north of Union Reservoir. With 8 miles of shoreline, scattered islands, and a maze of inlets, Utica is popular with kayakers and paddleboarders. Like Union Reservoir, Utica has two camping areas, pit toilets, and an unimproved dirt launch ramp.
Mosquito Lakes
Mosquito Lakes, up on Pacific Grade Summit, are small, making them less appealing to kayakers. If you choose to paddle there, you will want to watch out for the fishing lines cast by anglers from shore.
Highland Lakes
Highland Lakes are at the end of a side road near the summit of Ebbetts Pass. They are reasonably large, but lack the varied shoreline that make other lakes so popular. They are also exposed to brisk winds.
Sierra Nevada Adventure Company
2293 Highway 4, Arnold (209) 795-9310
448 Main St., Murphys (209) 728-9133
Sierra Nevada Adventure Company
Prices shown are for the first day of rental. For additional days beyond the first day, prices are reduced by 30%.
Recreational Kayak Rentals
Single sit-inside or sit-on-top $45 - $55
Double sit-inside or sit-on-top $65
Single Pedal-Kayak $70 - $75
Double Pedal-Kayak $90
Sail Kit for Pedal-Kayaks $15
Stand-Up Paddleboards
Stand-Up Paddleboard $40 - $65 for first day
Canoe Rentals
14' or 15' Royalex Canoe $70
16' to 18' Royalex Canoe $75 - $85
Group discounts are offered. Trailers for transporting multiple boats are available for rent.
Paddle Fest
June TBA, 2017 - an opportunity to try out different kinds ofcanoes, kayaks and paddleboards. Adults $35, childrlen 13 and under $25 - includes lunch. Reservations required. Event sells out every year. Call 209-795-9310×2
Paddle Fest
Sierra Nevada Adventure Company rents ski, boarding and snowshoe equipment in the winter.
Bear Valley Adventure Company
Bear Valley (209) 753-2834
Bear Valley Adventure Company
Bear Valley Adventure Company Boat Rentals
Boat
Half Day
Full Day
Additional Days
Full Day is from 9:00 AM to 4:45 PM, Half Day is from 9:00 AM to 12:45 PM or 1:00 PM to 4:45 PM
Single 10' Kayak
$35
$45
$30
Single 12' Kayak
$35
$45
$30
Double Kayak
$55
$65
$45
Family Friendly Canoe
$55
$65
$45
Touring Kayak with Rudder
$55
$65
$45
Stand-Up Paddleboard
$55
$65
$45
Kayaking Instruction
Introduction to Flatwater Kayaking: Two-hour lesson for adults and children 10 and older, all equipment supplied. $85 per person for 2 or more paddlers, $100 for private lesson.
Comprehensive Kayak Course: Half-day class at Lake Alpine. Learn paddling techniques, how to exit and re-enter decked kayak, solo rescues. $110 per person for 2 or more paddlers, $150 for private instruction. Minimum age 12.
Sunset Paddles
Enjoy the sunset from Lake Alpine as you and a partner receive an easy introduction to handling a tandem kayak. Explore the lake and then enjoy hot drinks and snacks. Two hours, $50 per person for 4 paddlers or more. For 2 people only, $125. Minimum age 8.