Murphys
Murphys is the historic Gold Rush town that knows how to do it right. While many similar communities up and down the Mother Lode struggle, Murphys is always bustling. New shops are opening while old ones flourish and draw loyal customers back again and again. It seems as if every time you drive through town another great event is on the way.
On the outskirts of Murphys are many other attractions. The most prominent is Ironstone Vineyards with its concerts and museum. Nearly as popular are the depths of Mercer Caverns and the outdoor theatre productions at Albeno Munari Vineyard and Winery.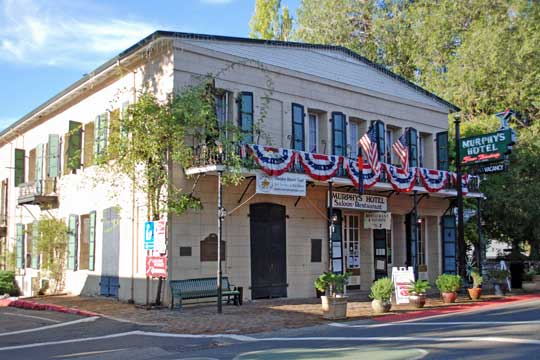 Up and Down Murphys' Streets
Murphys Old Timers Museum
470 Main Street
Open Saturday - Monday, 12:00 PM to 4:00 PM
Displays of pioneer day household articles, clothing, photographs, and tools. Native American baskets, local history books, gold panning kits. Free Walking Tour of Murphys every Saturday (weather permitting) at 10:00 AM.
Art Galleries
Misty Redwood Glen 263A Main Street - Features local artists, artisans and photographers
Murphys Bead Gallery 88 W. Highway 4, Suite 5 - Locally made jewelry art and beading supplies
VDora 207 Main Street - Featuring local and Bay Area artists
Murphys Hotel
An historic landmark, the Murphys Hotel stands in the heart of town. Built in 1856, the hotel offers accommodations, a fine restaurant and a colorful saloon. Among the hotel's more notable past guests have been Mark Twain, Susan B. Anthony, President Grant, and John Wayne. For more information about staying at the Murphys Hotel and other places in Murphys, see
Historic Hotels
Lodges, Inns and Resorts
Ebbetts Pass Motels
Ebbetts Pass B & Bs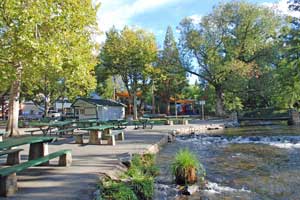 Murphys Community Club Park
505 Algiers Street
Murphys Community Club Park rests on the bank of frisky little Angels Creek. The iconic white gazebo is surrounded by a picnic area, BBQs, a snack hut, a children's playground, and restrooms. The park is host to many community events throughout the year, including the annual Calaveras Grape Stomp and the popular Duck Races.
Popular Annual Events in Murphys
Murphys Irish Days - Held in March every year the event fills the streets with craft booths. Among the highlights are a pancake breakfast, a parade with led by bagpipes, singers and dancers, and pony rides.
Calaveras Grape Stomp and Gold Rush Street Faire - Two events run simultaneously every October with grape stomping competitions, music, auctions, and children's events in the park and a bustling street faire on Main Street.
Ironstone Vineyards
Ironstone Vineyards, one mile south of Murphys on Six Mile Road, has become one of the leading venues in the area for concerts and other events. In 1989 John and Gail Kautz of Lodi launched what would evolve into Ironstone Vineyards. They hired a team of miners to carve out a limestone cave on Gail's family ranch south of Murphys. The cave became their wine cellar and early tasting room.
Today Ironstone Vineyards is California's largest winery entertainment complex. Visitors to Ironstone enjoy award-winning wines in their magnificent tasting room and strolling through the Heritage Museum and Jewelry Shoppe. The museum is home to a forty-four pound crystalline gold leaf specimen, the world's largest. Also at the vineyard are a culinary exhibition center, an outdoor amphitheatre, lakeside gardens, and wine aging caverns.
Ironstone's Summer Concert Series has included entertainers such as Willie Nelson's Country Throwdown, the Steve Miller Band, Sammy Hagar, and Don Henley.
For current hours and up to date concert information, visit Ironstone Vineyards
Murphys Area Wineries and Tasting Rooms
Albeno Munari Vineyard and Winery
2690 San Domingo Rd., 2.5 miles from Murphys off Sheep Ranch Road
Open 11:00 AM to 5:00 PM, 7 days a week
Black Sheep Winery
221 Main Street, Murphys, Open 11:00 AM to 5:00 PM, 7 days a week
Broll Mountain Vineyards
Located in Murphys, Open Fridays 1-5 PM, Saturdays and Sundays 11-5 PM
Indian Rock Vineyards
1154 Pennsylvania Gulch Road, Murphys. Check website for hours.
Lavender Ridge Vineyard
425 A Main Street, Murphys, Open 11:00 AM to 5:00 PM, 7 days a week
Renner Winery Tasting Room
498 Main Street, Murphys, Open 11:00 AM to 5:00 PM, 7 days a week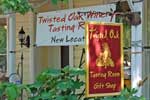 Milliaire Winery
276 Main Street, Murphys, Open 11:00 AM to 5:00 PM, 7 days a week
Twisted Oak Winery
363 Main Street, Murphys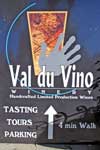 Val du Vino Winery
634 French Gulch Road, Murphys, Open 11:00 AM to 5:00 PM, 7 days a week
Zucca Wines
431 E. Main Street, Murphys, Open 12:00 PM to 5:00 PM, 7 days a week
Murphys Creek Theatre
Murphys Creek Theatre has been bringing quality stage productions to Murphys since 1994. Every summer they hold Theatre Under the Stars at the amphitheatre at Albeno Munari Vineyard (formerly Stevenot). The winery is located 2 miles north of Murphys on Sheep Ranch Road. Productions are typically Shakespearean plays.
Many who attend the plays at the amphitheater bring their own picnic dinner to enjoy prior to the evening's production. Seating is on the sloped lawn in either provided Adirondack chairs or whatever guests choose to bring themselves, such as lawn chairs or blankets.
Murphys Creek Theatre also puts on productions at Black Bart Theatre at 580 S. Algiers Street in Murphys. They offer dinner theater packages in partnership with the Murphys Historic Hotel.
Mercer Caverns
Originally used by Yokut Indians as a mortuary cave, Mercer Caverns were later abandoned and the entrance covered over with debris until its rediscover by pioneers in 1885. It has been a tourist attraction ever since.
Crystalline formations such as the Angel Wings and delicate formations of aragonite, along with stalactites, stalagmites, and a labyrinth of subterranean rooms have been drawing visitors for over a century. Tours of the cavern pass through the Fairies Grotto, Gothic Chamber, and the Oregon Loft.
Location: One mile north of Murphys on Sheep Ranch Road (see the map below).
Tours: of the caverns are held daily from 10 AM to 4:30 PM during the fall. Check the Mercer Caverns website for hours at other times of the year: Mercer Caverns
Prices: Adults $17, children 3-12 $9.50