From Markleeville to Silver Creek
Tiny Markleeville with a population of 210 is Alpine County's seat of government. The quaint town is composed of many historic buildings, some dating back to its beginning during the silver boom at nearby Silver Mountain City. There are several restaurants, a motel, a general store, a gas station, a museum, and a few other shops.
Nearby Grover Hot Springs State Park attracts a steady stream of visitors who enjoy camping there and soaking in the natural hot spring pools. Anglers love the East Fork of the Carson River which flows out of the Sierra and past Markleeville. Hangman's Bridge on Highway 89 is a landmark for fly fishermen.
For a few years during the 1860s Silver Mountain City along Silver Creek was a booming town. Today only a few remnants of its history remain - the crumbled rocks of the jail, Chalmers' mansion and smelter with its distinctive chimney, and the Chalmers family cemetery.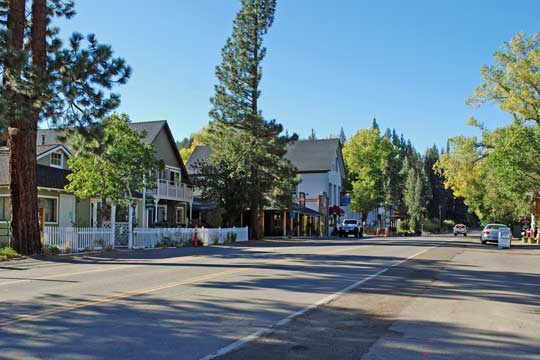 Markleeville
Alpine County Museum
The museum is located at the top of School Street and is open seasonally, from Memorial Day weekend through the end of October. Among the highlights at the museum complex are an operating silver ore stamp mill, the old Webster School, and an old log jail. Displays include relics of days gone by such as a blacksmith shop, a doctor's bag, and a watch maker's desk. Also set out for viewing are Washoe Indian basketry, photographs, and pioneer day toys.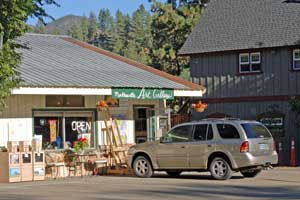 Markleeville Art Gallery
14841 Highway 89 - The art gallery displays works of art from a wide variety of regional artists, including watercolors and oils, sculptures and pottery, photographs and greeting cards. Markleeville Art Gallery.
Alpine County Visitors Center
Located at 3 Webster Street, the Visitors center has tourist information, maps, and interpretive and historical books. It is operated in conjunction with the Forest Service.
For information about lodging in Markleeville, see Lodges, Inns and Resorts or Ebbetts Pass Motels.
Grover Hot Springs State Park
Grover Hot Springs State Park is located a few miles east of Markleeville. The park is characterized by open pine forest, and sagebrush and meadows. The park has a pool complex with a hot pool and a swimming pool hot springs, a campground, picnic area and hiking trails.
Entrance Fee: $8 per vehicle

Grover Hot Springs has a visitor center/store located opposite the campground entrance station. They sell clothing, books, maps, and hiking-related items. The visitor center is open during the summer every day from 9:00 AM to 5:00 PM.
The Hot Springs Pool
The pool complex is generally open every day from June through August. From September through May the pool hours and days of operation vary. You can call ahead for current operating hours (530) 694-2249.

Pool Fees: Adults $7, Children $5
Hiking Trails
Easy family hikes include a nature trail called Transition Walk that loops around the park's alpine meadow and a three mile round trip walk to a waterfall on Hot Springs Creek. A much more ambitious jaunt is the hike to Burnside Lake located in the adjacent Toiyabe National Forest. Burnside Trail crosses the state park, then ascends through a pine forest to the alpine lake.
Burnside Trail Map
Camping
There are 76 campsites available in the park, usually open from May through September. During the winter the picnic area is opened for camping. For more information about camping in Grover Hot Springs, see Grover Hot Springs Camping.
Fishing
Fly fishing is the most popular kind of fishing around Markleeville. The East Carson River has miles of easy access along Highways 89 and 4. Fishing is good for rainbows, brown, brook, and Lahontan trout almost anywhere there. Many anglers camp out along the river and spend days working their way along the river. There are special regulations covering sections of the river above Carson Falls and below Hangman's Bridge.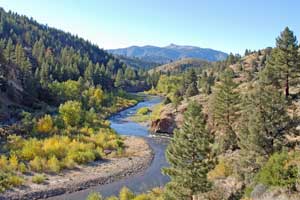 Fishing Silver Creek can be a little more challenging because in places access is more difficult than along the Carson, but many anglers enjoy working the smaller stream. More information about fishing Silver Creek can be found at Dave's Sierra Fishing - Silver Creek.
Other fishing destinations in the area are Indian Creek Reservoir and Pleasant Valley Fly Fishing Preserve, a private ranch. Fishing supplies can be picked up locally or at The Angler's Edge, 1506 Hwy 395, Gardnerville, Nevada.
Camping
Besides the campgrounds at Grover Hot springs State Park, there is Markleeville Campground located just south of Markleeville off Highway 89. For complete information about camping around Markleeville, see
Markleeville Campgrounds.
Silver Creek Campground is located at the foot of Ebbetts Pass off Highway 4. There is also an undeveloped camping area near Wolf Creek's junction with the East Fork of the Carson. For more information about camping around Silver Creek, see
Silver Creek Campgrounds.
Hiking and Equestrian Trails
Besides the hikes mentioned above which begin at Grover Hot Springs State Park, there are a number of other interesting trails in the area.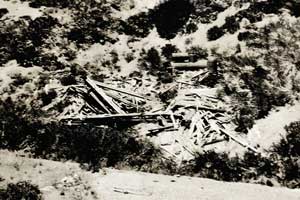 IXL Canyon: 2 miles - History buffs may want to try the 2-mile uphill climb into IXL Canyon where so many of the 1860s silver mines were located. Begin across the highway from the Silver Mountain City sign. Respect private property for any active claims, of course.
Dumonts Meadow: 9 miles - Begin at the junction of Wolf Creek and the East Fork of the Carson River and take what is known as the High trail, climbing 1,400 feet along the shoulder of the mountain above the Carson River. After 4 miles the trail drops down to cross the river just below the meadow.
Noble Lake: 5 miles - Begin at a bend in Highway 4 a third of a mile west of Silver Creek Campground. Hike south one mile to a crossing of Noble Creek, which can be difficult in spring and early summer. The trail continues up Noble Canyon, making a final push up to Noble Lake. The entire climb is 2000 feet and the last mile is steep.