Horseback Riding on Ebbetts Pass Trails
Miles of dirt roads and wilderness trails criss-cross the Ebbetts Pass region of the Sierra Nevada. Horseback riders have a wide range of choices for trail rides, from gentle ambles along level dirt roads to challenging scrambles up steep mountain terrain. The trails listed here are only a sample of the possibilities open to equestrians.
Popular Equestrian Trails
Arnold Rim Trail
The Arnold Rim Trail currently runs 10.5 miles from White Pines Lake west to Sheep Ranch Road near Avery. This section of trail is only the first of what is proposed to be a 35-mile trail connecting with Calaveras Big Trees State Park. The trail is open to equestrians, hikers, and mountain bikers.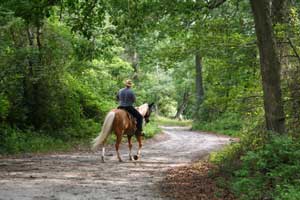 The trail makes a great ride for anyone visiting White Pines Lake near Arnold. The Arnold Rim Trail generally follows San Antonio Creek, crossing from its north side to the south about 2.5 south of White Pines Lake. Along its course the trail passes locations such as Penny Pines, Cougar Rock, and the San Antonio Falls overlook.
Maps of the trail can be picked up at the Forest Service station in Hathaway Pines. You can see a preliminary map provided by the Stanislaus National Forest at
Arnold Rim Trail Map
For more information about the trail, visit Arnold Rim Trail
Black Springs to Cabbage Patch
This 11-mile (one way) route follows well established logging roads from Black Springs to Cabbage Patch with only several hundred feet in elevation changes over gentle terrain. There is plenty of room for trailer parking around Black Springs, 14 miles east of Arnold. At 6,700 feet in elevation the road is usually open in mid-May.
Hermit Valley to Blue Lakes
Start at Hermit Valley, between Pacific Grade Summit and Ebbetts Pass. There is plenty of room to park and unload there by the campground. This 7-mile ride (one way) takes you along a dirt road, sometimes used by 4-wheelers but usually you will have it to yourself. The trail climbs about 800 feet out of Hermit Valley and then drops slightly to cross Deer Creek at about mile 4 before climbing on up another 600 feet to Blue Lakes. The lakes are accessible by road from Carson Pass
Pacific Valley to Highland Lakes
Start at Pacific Valley, just east of Pacific Grade Summit. This 10-mile trail (one way) climbs up to Highland Lakes. Ride out through Pacific Valley to the south for 1.5 miles and turn left up the Marshall Canyon trail. Climb 1,200 feet in the next 3 miles as you take the Peep Sight Peak trail out of Marshall Canyon. The trail then drops to Milk Ranch Meadow and remains fairly level to the Highland Lakes Road (about mile 8). Turn right onto the road and follow it 2 miles to the Highland Lakes Campground.
Arnot Peak Loop
This 15 mile loop circumnavigates Arnot Peak, taking you out along the Pacific Crest Trail and then down into the Disaster Creek watershed before climbing back to Highland Lakes. Panoramic views from the summit near Golden Canyon are a highlight of the trip.
Start at northern end of Highland Lakes off Highway 4 near the summit of Ebbetts Pass. Ride east through Lower Gardner Meadow and near mile 2 turn right onto the Pacific Crest Trail going south. Follow it to the head of Golden Canyon (about mile 7.5). Turn right there onto the Disaster Creek trail, descending nearly 2000 feet in several miles. At the creek (mile 10), turn right, making the gradual climb to Upper Gardner Meadow and soon afterward on to Highland Lakes.
Wolf Creek to Bull Lake
Start at the Wolf Creek campground at the end of Wolf Creek Road off Highway 4. You may want to park trailers before the last section of road as it is fairly rough. The 8.5 mile trail to Bull Lake climbs from 6,400 feet to 8,800 feet near the lake. For more information on this ride, see Horseback Riding around Lake Tahoe.
Riding the Pacific Crest Trail at Ebbetts Pass
South to Noble Lake
Begin your ride at the trailhead parking lot east of the pass. Follow the trail out a short distance to connect with the Pacific Crest Trail. Turn left onto the PCT, going south. The trail drops 500 feet to Noble Creek and then regains the elevation on its way up to Noble Lake. 3.5 miles one way.
North to Reynolds Peak
Start at the trailhead along the highway east of the summit of Ebbetts Pass. Riding north on the trail takes you past the Kinney Lakes and along the rugged volcanic slopes of Reynolds and Raymond peaks. Great vistas of the mountains and valleys to the east open up along the way. Elevation changes along the trail are mild. Four miles to Renolds Peak.
For more information about the Ebbetts Pass area and a map, see Ebbetts Pass.

High Sierra Trails
A Backpacker's Guide to the
Most Spectacular Trails
in the Sierra Nevada