Ebbetts Pass OHV
A general Forest Service map is a great help in keeping track of all the numbered roads which are open for OHV use. Also pick up one of the free Motor Vehicle Use Maps which show where you can ride legally ride OHV vehicles in the Stanislaus National Forest. The maps are available at the Forest Service office in Hathaway Pines.
You can access information on-line and even download portions of the map. See the Stanislaus National Forest's website section on OHV: Motor Vehicle Use Maps
For the Motor Vehicle Use Map for Toiyabe National Forest on the east side of Ebbetts Pass, see Carson Ranger District Motor Vehicle Use Map.
California Trails Northern Sierra Region (shown right) is the best 4-wheel route book for this area available. It is packed with maps, route descriptions, and color photographs for the northern Sierra from Sonora to Alturas. For Ebbetts Pass you will find
Black Springs Route
Calaveras Dome Trail
Corral Hollow OHV Route
Mattley Ridge Trail
Popular OHV Routes along Ebbetts Pass
Black Springs OHV Area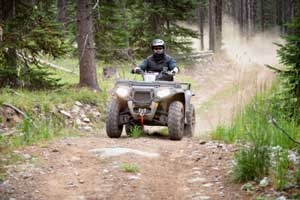 Fourteen miles east of Arnold Black Springs Road leads off Highway 4. Black Springs is the gateway to 100 miles of back country roads and trails open for OHV use from motorcycles to ATVs to 4-wheeling trucks. The maze of routes lead down to Airola Creek, out across the South Fork of the Mokelumne River, northeast to Salt Spring Reservoir, and northwest to West Point.
O'Neil Creek Area
The O'Neil Creek area has numerous roads and trails designated for OHV use. To reach the area, drive down to White Pines Lake near Arnold and continue out the road on the north side of the lake. At about .7 miles is a parking area. Or continue to mile 2.7 miles beyond the lake turn left onto a side road and in about half a mile find a staging area. most of the designated riding areas are in Sections 17, 18, and 19.
Rattlesnake Creek Area
To reach the Rattlesnake Creek complex of roads and trails, take the Boards Crossing Road from Dorrington down to the Sourgrass crossing and continue on the road south of the river. From the bridge you can follow the road 11 miles deep into the Rattlesnake Creek country around Liberty Hill. Popular camping areas are along road 6N17 near Big Rattlesnake Creek Bridge.
Slick Rock Trail: Utica Reservoir to Lake Alpine
The 3.5-mile Slick Rock trail begins at Utica Reservoir and runs up to Lake Alpine. Follow the road out to near its end on the west side of Utica where there is a good staging area. The route leads north from Utica and up across polished granite outcroppings. The hardest section is at Slick Rock, also referred to as the Ladder - a stepped portion of smooth granite. Another challenging area is near the Duck Creek bridge.
Deer Valley Trail: Hermit Valley to Blue Lakes
This route starts out in Hermit Valley as a very rugged 4-wheeling road and then gradually settles into a fairly easy dirt road working its way up to Deer Creek crossing and then a second, deeper stream crossing before heading on to Blue Lakes. Stream crossings can be 2 feet deep. One way, the run takes about 3 hours. A road from Blue Lakes connects with Highway 88 in Hope Valley.
4-Wheeling on Sonora Pass and Carson Pass
Sonora Pass

A bunch of other OHV routes are found to the south on Sonora Pass. Niagara OHV camground and Hull Creek are two of the most popular areas. For a great overview of 4-wheeling on Sonora Pass, see our sister website, Sonora Pass Vacations.
Carson Pass

More OHV routes wait up on Carson Pass. Networks of off-road routes are spread over the area, connecting with some of the best 4-wheeling around South Lake Tahoe. For maps and routes, see our sister websites, Up and Over Carson Pass.