Mountain Biking on Ebbetts Pass
Everywhere you turn in Calaveras and Alpine counties there are great places for mountain biking. The higher up Ebbetts Pass you go, the wilder and steeper the routes become.
Popular Mountain Biking Routes
Arnold Rim Trail
The Arnold Rim Trail currently runs 10.5 miles from White Pines Lake west to Sheep Ranch Road near Avery. This section of trail is only the first of what is proposed to be a 35-mile trail connecting with Calaveras Big Trees State Park. The trail is open to mountain bikers, equestrians, and hikers.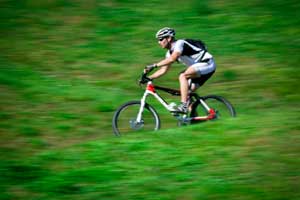 Start at either end - off the Sheep Ranch - Avery Road or at White Pines Lake. The Arnold Rim Trail generally follows San Antonio Creek, crossing from its north side to the south about 2.5 south of White Pines Lake. Along its course the trail passes locations such as Penny Pines, Cougar Rock, and the San Antonio Falls overlook.
Maps of the trail can be picked up at the Forest Service station in Hathaway Pines. You can see a preliminary map provided by the Stanislaus National Forest at
Arnold Rim Trail Map
For more information about the trail, visit Arnold Rim Trail
Union Reservoir Loop
Start either at Union Reservoir or the end of the Summit Lake Road for this 7 mile loop on trail and gravel road. From the road's end at Union Reservoir head northeast along the shoreline trail to Elephant Rock Lake. Pick up the Summit Lake road there and follow it back around to the main Spicer Reservoir road. Turn right, go a few yards and turn again onto the Union Reservoir Road to take you back to the start. Rolling terrain, several hundred feet of elevation changes.
Bear Valley to Lake Alpine via the Emigrant Trail
This 3.4-mile (one way) trail runs from Bear Valley up the Emigrant Trail to Lake Alpine. Begin in Bear Valley near the Perry Walther Building and follow the trail across Highway 4. It continues up the south side of the highway until it intersects the Emigrant Trail after about 1.2 miles. Turn right up the Emigrant Trail, following it to the dirt road at the lower end of Lake Alpine. Take the road up to the Lake Alpine Resort. Make a loop return by going up to the Osborn Hill - Silvertip Campground area from Alpine and then along the trail that parallels the highway back to Bear Valley.
Cape Horn to Lake Alpine
A 2-mile single track trail from the Cape Horn turnout on Highway 4 down to Lake Alpine. Rated close to Black Diamond. The Bear Valley Adventure Company offers a weekend shuttle in the summer up to Cape Horn. Then you can take the whole ride all the way back to Bear Valley (see Bear Valley to Lake Alpine above).
Grover Hot Springs to Hawkins Peak
This extreme 7-mile (one way) trail from the state park to the summit of 10,000-foot Hawkins Peak will challenge even the best conditioned riders. The trail starts at 5,800 feet. After an easy first mile it climbs steeply up to Burnside Lake (mile 3.5). From there it is a steady climb to the top of Hawkins Peak where you will have spectacular views of the surrounding area.
Bear Valley Adventure Company
Bear Valley (209) 753-2834
Bear Valley Adventure Company

Adventure Company's Bear Valley Adventure Map has a complete description of rides and activities in the area. Purchase it at their store, the first building on your left when you turn into Bear Valley.
Bear Valley Adventure Company Mountain Bike Rentals
Bike
Half Day or 2nd Day
Full Day
Additional Days (3+)
Full Day is from 9:00 AM to 4:45 PM, Half Day is from 9:00 AM to 12:45 PM or 1:00 PM to 4:45 PM. 2017 Rates are shown here.
*Shuttle drop-off points are Bear Top, Cape Horn, and Lake Alpine
Kid's Bike
$15
$25
$15
Adult Mtn. Bike with Front Suspension
$30
$40
$25
High End Demo Bike -
Mtn. & Road Bikes
$50
$65
Mountain Bike Lessons and Guided Tours
Basic Mountain Bike Skills Ride - Taught on an easier technical trail, covering safety, proper bike fit, bike skills. $50 per person for 2 or more riders. 10 AM - 12:30 PM. Ages 12 and up.
Basic Mountain Bike Skills Ride - Taught on an easier technical trail, covering changing a flat, bike adjustments, tools, trouble shooting and more. $50 per person for 2 or more riders. 10 AM - 12:30 PM. Ages 12 and up.
Morning Meadow Ride - Guided tour of private land in Bear Valley Meadow. Easy route. 10:00 AM - 12:00 PM. $50 per person for 2 or more riders. $65 for private tour. Young riders must be able to handle a 2-wheel bike on their own.
Mountain Biking on Sonora Pass and Carson Pass
Sonora Pass

Just to the south of Ebbetts Pass, Sonora Pass (Highway 108) is well known for some great mountain bikine. Stop in at Pinecrest and talk to the people at the bike rental shop to pick up ideas and maps. Also check out our sister sister website, Sonora Pass Vacations.
Carson Pass

You can find miles of exiciting roads and trails for mountain biking on Carson Pass. One of the best is the route to the summit of Little Round Rop. To see a list of mountain biking trails and maps of the routes, visit another of our sister websites, Up and Over Carson Pass.