Calaveras Big Trees State Park
Calaveras Big Trees State Park is located 22 miles east of Angels Camp on Highway 4 in Calaveras County. Situated at an elevation of 4700 feet, it enjoys mild summers along with several feet of snow on the ground in the winter. Two groves of giant Sequoia trees are the main attractions of the park. Visitors will also enjoy pleasant hiking trails, access to the Stanislaus River, and ranger led activities.
Camping Overview
Calaveras Big Trees State Park has two main campgrounds. Every campsite includes a fire ring, picnic table, parking for two vehicles, and piped water within a few yards of your camp site. Both campgrounds have restrooms with flush toilets and coin operated hot showers.
RV campsites for vehicles up to 30 feet are scattered among the tent sites. There are no hook-ups and the dump station is currently closed.
Camping Fees: $35 per night (for up to 8 people and 1 vehicle, extra vehicles $8)
Online Reservations (May 24 - September 1) at ReserveCalifornia:
Silver Strand State Beach Campground Reservations
or call (800) 444-PARK (7275) between 8 AM and 6 PM
North Grove Campground
The North Grove campground is located close to the park entrance on Highway 4. The campground is relatively flat and offers a good mix of sunshine and shade. A wet meadow adjacent to the campground displays wildflowers in the spring and makes a great place for star gazing.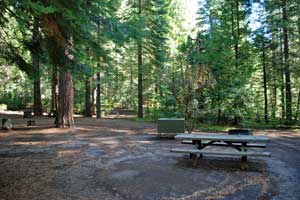 Key Features:
73 Campsites for tents and RVs
Close to North Gove of Giant Sequoias
Close to Visitor Center and Campfire Center
Closed December - February, 12 Campsites open March 1
Restrooms closed October 31 - April 30
Oak Hollow Campground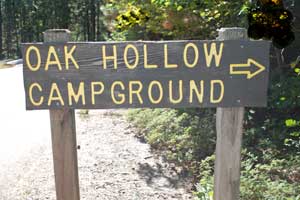 Oak Hollow Campground is located 4 miles from the park entrance. Nestled amongst pines, cedars, fir and Dogwoods, Oak Hollow campground feels a little more secluded from the activities at the hub of the park than the North Grove Campground. Oak Hollow Campground is built on the side of a hill.
Key Features:
55 Campsites for tents and RVs, campsites range from small to very large
Two miles from the Stanislaus River
Open May 1 - September 31
Group Campgrounds
There are two group campgrounds in Calaveras Big Trees State Park, Upper and Lower. Upper group site is available for groups between 9 and 60 people at a cost of $200 per night. Lower group site holds between 9 and 40 people for a cost of $135 per night.
Environmental Camps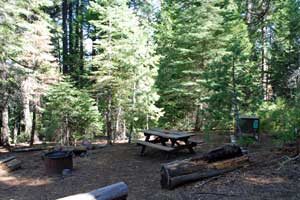 There are five Environmental tent campsites scattered about the park: Sugar, Lone Snag, Stanislaus, Beaver, and White Fir (White Fir is accessible). These are primitive sites which include a table, bear box, and fire ring. The campsites are usually a 5 or 10 minutes walk from the parking area. Each site can have as many as 8 occupants. The cost is $25 per night.