Other Nearby Areas to Consider for Rental Cabins
Sonora Pass

A few miles to the south is beautiful Sonora Pass (Highway 108) with Dodge Ridge Ski Resort, Pinecrest Lake, Kennedy Meadows, and dozens of other great destinations and recreation opportunities. Take a look at another of our sister websites, Sonora Pass Vacations.
Carson Pass

Only a few miles to the north, Carson Pass (Highway 4) offers mountain lakes like Silver Lake and Caples Lake, winter skiing at Kirkwood, great camping sites, and a host of other outdoor recreation opportunities. You may want to consider looking through our sister website Up and Over Carson Pass.
Donner Summit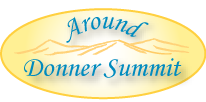 At the north end of Lake Tahoe around Donner Summit (Interstate 80) are fabulous opportunities for vacation cabin rentals at places like Donner Lake, Tahoe Donner, Soda Springs, and Truckee. You'll find them all at Around Donner Summit.
8 Great Reasons for Renting a Cabin
The price is right. For families or small groups it is cheaper than a motel.
More space. Room to spread out, relax, store your gear.
Outdoor living space. Cabins have decks, BBQs, places for kids to run around.
Privacy. No neighbors overhead or through a common wall.
A full kitchen. Cook at the cabin or bring in a pizza.
Choice of location. From Murphys to Blue Lake Springs to Bear Valley
Feel at home.
Pick a cabin with the amenities you want.