Ebbetts Pass Golf
There are currently two golf courses along the Ebbetts Pass Highway, Murphys 9 Golf Coure (formerly Forest Meadows) and Sequoia Woods Country Club (a private course). The old 9-hole Meadowmont course in Arnold has sadly closed.
For those seeking nearby courses, there is Greenhorn Creek near Angles Camp, La Contenta (semi-private) at Valley Springs, and Saddle Creek (semi-private) near Copperopolis. On the east side of Ebbetts Pass the nearest golf is at Carson Valley Golf Course near Gardnerville, Nevada.
Murphys 9 Golf Course
(formerly Forest Meadows Golf Course)
9-hole course near Murphys
Public
Murphys 9 Golf Course

Murphys 9 Golf Course lies within the Forest Meadows development, a gated community off Highway 4, just a few miles east of Murphys. Designed by Robert Trent Jones, Jr., the 9-hole course is spread through stately pines, cedars, and oaks and across scenic meadows. At the Murphys 9 Golf Course you will find a golf shop, practice facilities, and restaurant.
Murphys 9 Golf Course Rates
Prime Time
Mid Day (2:00 PM)
Call (209) 728-3439 to reserve a tee time.
9 Holes Weekday
$11
$0
18 Holes Weekday
$18
$14
9 Holes Weekend
$14
$11
18 Holes Weekend
$24
$17
Junior Weekday (9 or 18 Holes)
$6
Junior Weekend (9 or 18 Holes)
$10
Cart Fees
9 Holes $10
18 Holes $15
Sequoia Woods Country Club
18-hole course near Arnold
Private - Membership Required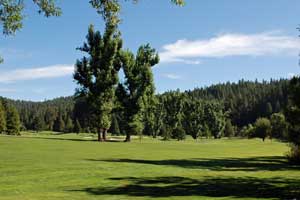 Sequoia Woods Country Club

Sequoia Woods Country Club's course next to the Blue Lake Springs development, just a mile east of Arnold, is an 18-hole course set among the pines at 4000 feet. Designed by well-known architect Bob Baldock, the par 70 course attracts players of all abilities. It is open 10 months a year, closing only for the months when snow covers the ground.
Membership at Sequoia Woods Country Club gives you access to all their facilities along with reciprocal playing privileges at over 80 private country clubs in Northern California.